Transport and Shopping in the Yards

John Curson often visited the market but not always to do his shopping. Listen to John telling you what happened in the 1930s.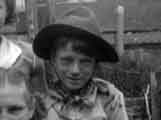 Philip Armes has some fascinating memories of aircraft over Norwich. A Pulham Pig, the R101, a prototype spitfire and numerous other aircraft and suddenly pre war Norwich becomes an aviation centre?